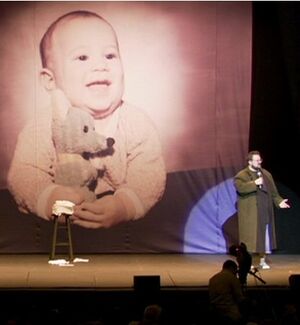 Sold Out: A Threevening with Kevin Smith is the third Kevin Smith Q&A DVD. It features footage from a show August 2, 2007 at the Count Basie Theatre in Red Bank, California. The show celebrated Smith's 37th birthday. The DVD was filmed as well as produced by Zak and Joey of Chop Shop Entertainment.
A 2-disc special edition DVD was released on October 21, 2008 in the US.
The remainder of the show
"Special Featuers": Quicker Q&A stuff and some asides that didn't flow well with the main stories
Chapter headings are given to the bigger questions. The menus are static with no extra material filmed specifically for them, as was done on the previous interview DVDs. There are no liner notes.
External Links
Edit
Ad blocker interference detected!
Wikia is a free-to-use site that makes money from advertising. We have a modified experience for viewers using ad blockers

Wikia is not accessible if you've made further modifications. Remove the custom ad blocker rule(s) and the page will load as expected.