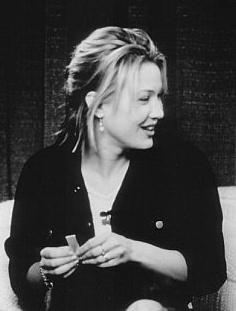 Gwen Turner is a supporting character in Mallrats. She was portrayed by Joey Lauren Adams.
Turner was the former girlfriend of T.S. Quint. Despite cheating on him constantly, she still expressed that he was a good catch in retrospect.
Throughout Mallrats, Gwen is seen interacting with T.S. and Brodie Bruce. Her clothes shopping is often interrupted by Silent Bob crashing into her dressing room as she is changing. She also causes a major story point when she convinces Brandi Svenning that T.S. was in fact a great boyfriend.
Movies Appearances
Edit
Other References
Edit
In Chasing Amy, Alyssa Jones mentioned that she left her prom so that she could have sex with her 26 year old date and Gwen in a limo her parents had rented.
In the Clerks comic book Where's the Beef?, Randal mentions that Dante Hicks tried to impress Gwen by wearing a Batman costume and standing on a rooftop.