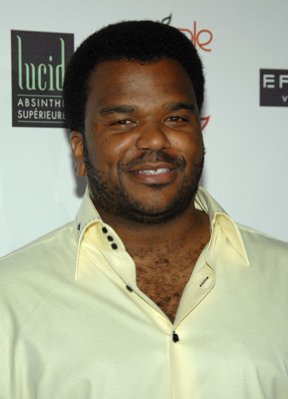 Craig Robinson (born October 25, 1971) is an American actor and stand-up comedian from Chicago, IL. He is perhaps best known as Darryl Philbin on the American version of The Office. He plays Delaney in Zack and Miri Make a Porno.
when asked what his porn name would be
Going by the formula of your pet name and the street that you grew up on, I'm Gidget Walcott. Nice.

[1]
Filmography
Edit
Lucky (2003, 13 episodes) as Mutha Rhodes
The Bernie Mac Show (2004, 1 episode) as Wayne
LAX (2004, 1 episode) as Wayne
Curb Your Enthusiasm (2005, 1 episode) as Attendant #1
The Office (2005-present, 24 episodes) as Darryl Philbin
D-War (2007) as Bruce
Daddy's Little Girls (2007) as Byron
Knocked Up (2007) as Club Doorman
Walk Hard: The Dewey Cox Story (2007) as Bobby Shad
Pineapple Express (2008) as Matheson
Zack and Miri Make a Porno (2008) as Delaney
References
Edit
Ad blocker interference detected!
Wikia is a free-to-use site that makes money from advertising. We have a modified experience for viewers using ad blockers

Wikia is not accessible if you've made further modifications. Remove the custom ad blocker rule(s) and the page will load as expected.