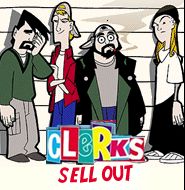 Following Clerks: The Animated Series' cancellation, Smith announced plans to make a straight-to-DVD film. The basic plot involved Dante Hicks and Randal Graves making a movie about their lives at the Quick Stop, a reference to the production of the original film.
As of September 2007, the status on the project is unknown. In a recent interview Kevin Smith expanded on the delays surrounding the film. Apparently, when Harvey and Bob Weinstein left Miramax, owned by Disney, the split was not completely amicable. The rights to the Clerks television show are still owned by the Disney Corporation, who as a result are reluctant to work with The Weinstein Company, throwing the future of Clerks: Sell Out into question. At the 2007 Cornell Q/A Kevin said due to the Miramax/Weinstein argument "you will see a Jay and Silent Bob cartoon before Clerks: Sell Out."
Ad blocker interference detected!
Wikia is a free-to-use site that makes money from advertising. We have a modified experience for viewers using ad blockers

Wikia is not accessible if you've made further modifications. Remove the custom ad blocker rule(s) and the page will load as expected.