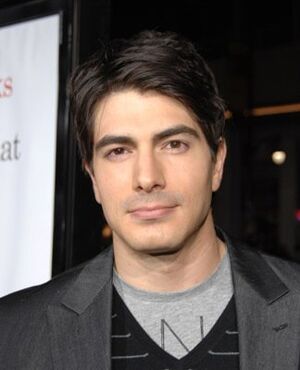 Brandon Routhis an actor most famous for playing the role of Superman in the 2006 film Superman Returns. He plays Bobby Long in Zack and Miri Make a Porno. Routh also appears in one of the Money Shots, in a mock take on co-star Justin Long's acting method.
when asked what his porn name would be
If I take my first pet and my street name … I don't know if the street name would really work because it would be Center. Otis Center. That would be my name. Is that hot? If I had an alternative name it would be John Doe. And nobody would know it was me.

[1]
Kevin Smith admitted to some satisfaction in casting a Superman actor in a role as a gay porn star after years of having worked on a Superman script for Warner Brothers himself which was never used.[2] When Smith asked Routh if he had some sort of morals clause in his contract, being that he plays Superman, Routh answered, "What is this, 1940?" Newsweek Smith did try to add some Superman references into Routh's Zack and Miri scene, but Routh asked him to take them out. [3]
Routh became sick after kissing Justin Long during their scenes.[4]
It was Seth Rogen's idea to have Routh and Justin Long play a gay porn couple.[5]
Filmography
Edit
Year
Film
Role
Other notes
2006
Karla
Tim Peters
Denial
Man
Superman Returns
Superman/Clark Kent
2008
Fling
James
Zack and Miri Make a Porno
Bobby Long
Life is Hot in Cracktown
Sizemore
Table for Three
Scott Teller
Miss Nobody
Milo Beeber
post-production
Television
Edit
Year
Film
Role
Other notes
1999
Odd Man Out
Connor Williams
Episode - "You've Got Female"
Undressed
Wade
2001
Gilmore Girls
"Hot" College Student
2001-2002
One Life to Live
Seth Anderson
2003
Cold Case
Young Henry Phillips
Episode - "A Time to Hate"
2004
Will & Grace
Sebastian
Episode - "A Gay/December Romance"
Oliver Beene
Brian
Episode - "Dibs"
2005
Awesometown
Officer Dino Wong
2006
The Batman
John Marlowe/Everywhere Man]]
Episode - The Everywhere Man
After Midnight: Life Behind Bars
Willie Dawg Vaughn
2008
Fear Itself
Bobby
Episode - "Community"
Video games
Edit
Superman Returns (2006) (voice) Superman/Clark Kent
References
Edit
External links
Edit
Ad blocker interference detected!
Wikia is a free-to-use site that makes money from advertising. We have a modified experience for viewers using ad blockers

Wikia is not accessible if you've made further modifications. Remove the custom ad blocker rule(s) and the page will load as expected.