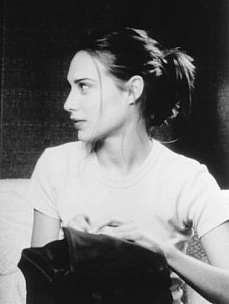 Brandi Svenning is a character in Mallrats portrayed by Claire Forlani.
She is the girlfriend of T.S. Quint, a relationship of which her over-protective father does not entirely approve. When Julie Dwyer cannot appear on her father's televsion pilot "Truth or Date", she stands in for her. However, this means delaying her plans for a trip to Florida with T.S.; the two quarrel and break up. T.S., with the help of his friend Brodie Bruce, sabotages the show and proposes to her; she accepts.
In an epilogue to the film, it is revealed that T.S. and Brandi got married after they graduated at Universal Studios in Florida. They share their first husband-to-wife kiss just as Jaws pops out of the water.
In the extended cut of Mallrats, more is added to the story; while at the 37th Annual Governor's Ball, T.S., dressed as a Revolutionary Soldier for a musical at the event, gets a musket tied up in Brandi's hair while on the roof of the high school where the event is being held. The governor's security believe it's an assassination attempt and the event turns into a shoot out. The governor is injured and it ruins the chance of Mr. Svenning getting a check from her. Throughout this version, people in the mall recognize T.S. from television, to which he responds "I got a musket tied up in my girlfriend's hair for God's sakes". This line of the plot is referenced in the theatrical version of film when one of the television producers mention the Governor's ball to Svenning.
In Chasing Amy Banky Edwards tells Alyssa that he ate Brandi Svenning out and was caught by her father.