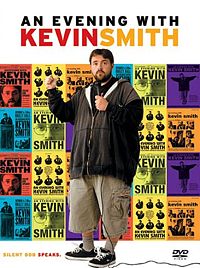 An Evening with Kevin Smith is a DVD featuring Question and Answer sessions that the writer and filmmaker Kevin Smith held with his fans at various American colleges, including: Clark University, Cornell University, Indiana University, Kent State University and University of Wyoming. During the sessions, Kevin Smith answers questions regarding his movies, as well as his life. He discusses how he got started in the movie industry, how different films came about, his friendship with Jason Mewes, and his relationship with the media, fans, and various other celebrities.
See Also
Edit
Ad blocker interference detected!
Wikia is a free-to-use site that makes money from advertising. We have a modified experience for viewers using ad blockers

Wikia is not accessible if you've made further modifications. Remove the custom ad blocker rule(s) and the page will load as expected.